WE OPPORTUNITY CRM+ SOFTWARE
Lead, prospect, and account management tools define your sales pipeline. Our complimentary WeSuite Go! App helps sales stay up to date.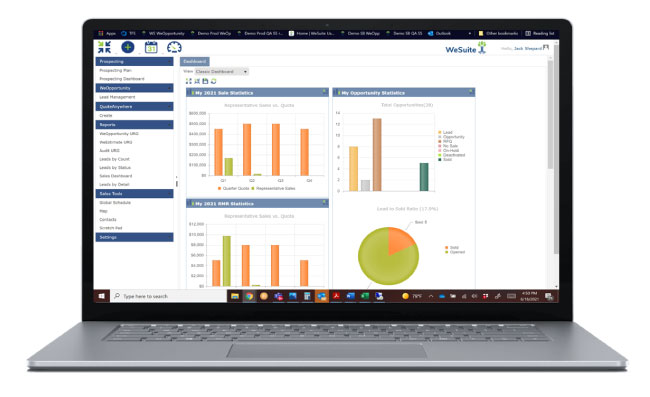 WeOpportunity Makes Selling Easy!
Record and share opportunities with one-time data entry
Upload contacts and lead lists
Assign and distribute leads throughout your sales team
Track progress with time-saving tools and minimal effort
Manage sales based on accurate and complete reporting
Knowledge is power. WeOpportunity's simplified data entry keeps lead updates and pipeline reporting current and complete. Know where you're spending your time, what works, and what doesn't!
Open existing leads, record details, create notes, update products and services, add tasks, and schedule information. Record and share sales stage, budget, and project installation date.
Turn Opportunities Into Quotes!
When you change the lead status to RFQ (Request for Quote), WeOpportunity automatically passes the lead WeEstimate, ready to create the job. Seamless integration means no duplicate entry.
Customizable
Visual Dashboard
Update Lead Notes
Using Text-to-Talk
We're always happy to talk about your sales process.